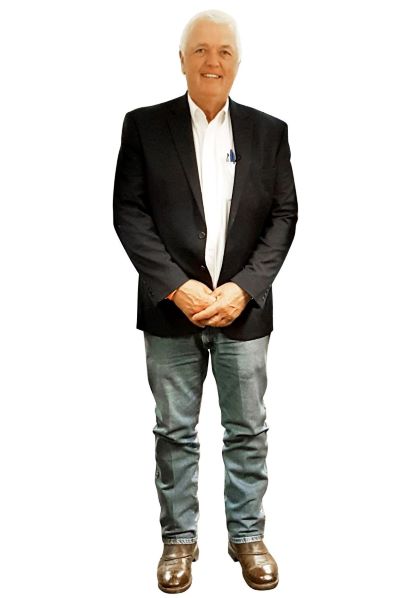 Rich Wilcke is now retired. He has held a number of equine industry positions, among them Director of the University of Louisville Equine Industry Program as well as Executive Vice-President of the Maryland Horse Breeders Association. He lives, writes and farms livestock at his Wulken Bauernhof ("Wilcke Farm" in old German) in Bethlehem, Ky.
Rich was interviewed by Boots Fox, President of HorseWorldData.
HWD: Is Kentucky the horse capital of the world?
RW: If you base it on the Thoroughbred industry, which is certainly the most financially prominent breed in the world because of pari-mutuel racing and the fact that the ban on artificial insemination causes breeding-industry prices to be higher than they would be otherwise, I don't think it's possible to argue that central Kentucky is not the "Thoroughbred' capital of the world.
Kentucky has traditionally had about 90% of all Thoroughbred stallions in the world that stand for over ten or fifteen thousand dollars. There are some very nice stallions in England and Ireland, and a few in Australia, but by and large this is where most of the top stallions are. In other states of the U.S., when a stallion really hits well, he invariably ends up standing in Kentucky.
These stallions are important because, as I say, the ban on artificial insemination requires mares to come here physically to be covered naturally. A farm like Three Chimneys, for example, will usually have 300 or more mares owned by out-of-staters (or mostly out-of-staters) boarding year-round. And when they foal, they foal here, and then their foals are weaned here. They may go into yearling sales, which are also here; Keeneland being the number one Thoroughbred market or auction company in the world, bigger than Fasig-Tipton and even Tattersalls. So I don't think there's any question that central Kentucky is the horse capital of the world – or, more accurately, the "Thoroughbred capital of the world."
One place that has competed for the "horse-capital" title is Ocala, Florida, which actually once trademarked that slogan. But if you examine Marion County, while it's a very significant horse community, it's not strictly Thoroughbreds. There are many Arabians down there. It's the center of the Paso-Fino breed. In fact, many breeds have taken advantage of the climate and the infrastructure, meaning the veterinarians and other experts and services available. So, it's an important horse area and an important economic cluster in a small area but from a Thoroughbred standpoint, it's nowhere near the scope of central Kentucky.
HWD: But Kentucky doesn't advertise itself as the Thoroughbred capital of the world, we advertise it as the 'horse' capital of the world.
RW: That's because most Thoroughbred people don't know that there are any other "real" breeds. When they say they're trying to strengthen the horse industry, they mean they're trying to build the Thoroughbred industry. When Keeneland and Churchill Downs announced in 2017 that they were planning to build two new tracks, one at Corbin and one at Oak Grove, they said this will really strengthen the state's horse industry. They didn't mention the breeds or type of racing they were talking about. In reality, Oak Grove was to be a harness track and Corbin was to be a Quarter Horse track because these were the only facilities the State would approve. But that was never mentioned.
The reason is that their plans were not to build a great harness track or a great Quarter Horse track. What they hope to do is build a small harness track and a small Quarter Horse track which will authorize them to install Historical Horse Racing terminals in these markets. The primary intent is to funnel a majority of the earnings from these machines to the Thoroughbred industry.
Any legislator in Kentucky may be enamored of the Thoroughbred industry's preeminence but chances are he or she doesn't have any of that activity within his or her county or district. There are only about five where legislators would perceive the Thoroughbred industry as an important constituency.
HWD: Do you think it would help to advertise more, both the Thoroughbreds and some of these other breeds?
RW: I don't know. Would advertising make a difference? Certainly, the tourist angle is pretty strong already, as far as the Kentucky Derby and the Kentucky Horse Park are concerned. And I am sure that many tourists that come for the bourbon tours would like to go to the horse farms if they can
HWD: But there's also a lot of riders in the world who would like to find a place to ride and there's some big trail rides in Kentucky.
RW: But, of course, those are not Thoroughbred activities.
HDW: Yes, but if they were advertised, they could help the horse industry. And Kentucky could do so much more for the other breeds.
RW: There's no question about that. The potential impact of the other breeds in Kentucky is tremendous. But part of the problem is that economically, and also politically, the Thoroughbred industry dominates and not particularly benevolent toward the other breeds. They're nice, but they perceive the Thoroughbred as the number one breed, the king of breeds, and all that. They don't donate any of the money that comes from 'instant-racing" machines to Quarter Horse racing, or to Paint racing to Appaloosa racing or Arabian racing, even though these are all legal pari-mutuel breeds in Kentucky. Frankly, none has been served in about 30 years. Since around 1990, there's been no effort by the Thoroughbred industry to help them or to let them run races.
Would they ever run a Quarter Horse race at Churchill Downs or at Keeneland? Never. And the Thoroughbred horsemen don't want other breeds racing at Ellis Park or Turfway either. They ran a few Quarter Horse races each July at the Red Mile to legalize the simulcasting of Quarter Horse races into Kentucky. But there was a joint Thoroughbred and harness industry contract with TVG that didn't allow the Quarter Horse people to get any money off those wagers. When advanced deposit wagering was starting, the management of Los Alamitos said Kentucky was one of their best states for wagering on their races. But the Quarter Horse people got zero out of that and of any other simulcasting of their races,
HWD: But supporting other breeds could also be in the form of supporting trail riding, or shows or reining or a farm that wants to have a bed and breakfast.
RW: Yes. A reason they originally started the Kentucky Horse Park was because folks were coming to Lexington to see horse farms but most of the commercial operations were saying "no visitors allowed." The buses would drive around and point out farms. Tourists would say, "is there any way we can visit those farms?" The answer would be "No, sorry, they don't allow visitors."
They started the Kentucky Horse Park partly to give tourists a way to experience something more tangible or physical to horses than they would otherwise. Now there are a few Thoroughbred farms that do allow visitors. You never know, one may get so excited they will ask "How do you own a racehorse?" "What do have to do to own a broodmare?" "Could my rich uncle call you?"
Over the years the Kentucky Horse Park has tried to become more diverse in its breeds and activities, because that's the way you get more tourists. And they try to develop more opportunities for shows. But they're so intent on the high-caliber shows, the most prestigious shows, the championships, that their prices to rent their facilities, arenas and the like, are so high that there are very few local state-oriented shows that can afford to go there.
HWD: There's the Tryon, North Carolina horse park to compete with them.
RW: That's right. There's a lot of competition today. There's a place in Springfield, Ohio that is just phenomenal with multiple arenas. Now, that is not a full-blown horse park, but it is designed for showing. The thing of it is, horse show people have none of the passion that you suggest the Kentucky Thoroughbred industry should have about tourism. Show exhibitors, generally speaking, don't care about tourists. They don't care about spectators. In state after state, where they used to have big horse shows of one breed or another at state fairs, the horsemen have said they'd prefer their shows the week before the state fair because they don't like competing with the crowds for parking and hotels.
If there's no one in the stands watching them, they don't care. They're doing it for themselves. Even the American Quarter Horse Association's World Championship Show in Oklahoma City has almost no spectators. This is the world's most popular breed and the most popular disciplines and events, yet there's never any body in
the stands, just other participants, and relatives. So, participants don't really care is the industry is growing from a spectator standpoint.
HWD: But I could see somebody from, say, New Jersey, saying; "I'm going to go to Kentucky. I'm going to go to the Derby. I'm going to see the races there. But I'd like to have more of a horse experience than that. I'd like to stay at a bed and breakfast. Or I wonder if Kentucky has a place modeled after the old west where I could ride a horse and go into the saloon? Or I wonder if they've got a place to round up cattle or do some of the stuff I'd have to go out west to do. If Kentucky is the horse capital of the world. I'd like to do some other horse stuff besides the races while there.
RW: I think the tourism people in Frankfort struggle with this issue. They do try to capitalize on the horse reputation of Kentucky. But they don't know how to do it. The same thing as the agritourism. They try to tell people come and you can stay at a farm. Not necessarily a horse farm, but you can visit a cattle farm, a sheep farm or anything else. They struggle with that challenge.
HWD: Well, the Rocky Mountain Horse is a breed that originated in Kentucky. A tourist might like to ride a Rocky Mountain Horse. I know some guys in Salyersville who are big on Rocky Mountain Horses, but they breed them and send them out to California. Wouldn't it be nice if there were a place where you could ride a Rocky Mountain Horse, find out about them, maybe stay at a place that boards them. It just seems like there are a lot more opportunities for horse experiences in Kentucky.
RW: Do you think that since Kentucky has the horse reputation, primarily due to the Thoroughbred, that it should use it to capitalize on these other breeds and other events. If I were going to a dude ranch, I wouldn't go to Kentucky. I'd go to Arizona or Wyoming because that's where it is.
HWD: But if you live in Pennsylvania and you could drive to Kentucky and do the same thing, wouldn't that be attractive?
RW: I bet there are more dude ranches there in Pennsylvania than there are in Kentucky.
HWD: You know I grew up with a lot of people who would go to the race track and bet on horses but have never been on a horse.
RW: That is probably the case for a number of people – even prominent owners - in the Thoroughbred industry.
HWD: How about the Kentucky Horse Council? Does that organization do much to promote horses in Kentucky?
RW: State horse councils in general were promoted years ago by the leaders of the American Horse Council because what they wanted people in the states to talk to their congressmen to help the AHC do its job. If they were fighting a tax or changing the depreciation on horses, if they could get a congressman, say, from Wisconsin, to believe that an issue affects his people, that would be great. So, they started these horse councils in these different states.
What they should have done is gone in there and say we're going to make this a federation of all the groups that are in the state. If there's a state Quarter Horse group, that'll be a part of the state horse council. If there's an Appaloosa group that's a part, a Thoroughbred group, that's a part. Make it an actual federation. But instead they said if you want to support the new state horse council, join it as an individual member. They never got very many members because if someone's yin the Quarter Horse business, they belong to their state breed association.
Why immediately begin competing with other horse groups for members? They should have done it federation style. But almost every state went out there and tried to do it as an individual membership organization. They didn't get support of the different groups because each breed or discipline said we can represent our interests in our state. We don't need this horse council.
HWD: It's another layer.
RW:
It's another layer but the bad part is that they were competing for members, just like every other association. Somebody might say, "I can't afford to belong to both, so I choose my breed." So, they didn't have the support of breeds or other interest groups because they didn't have luck enlisting members. So, they almost never had enough money or much clout when talking to their congressmen, for
that matter. A few, like Wisconsin and Indiana, built profitable horse fairs and a few did eventually become federations. The Kentucky Horse Council managed to get a vanity license plate, which was popular and funded the organization. Were it not for that, it would be much weaker, if not defunct.
KEEP started as a similar kind of organization, although they also didn't do it as a federation, they just cherry-picked people from different groups to be directors. They want to be the horse all-breed organization. But the motivation, which was obvious, was to get casinos at racetracks. That is what it was all about. Today, the organization has done a U-turn. Because instant-racing machines are legal under the Racing Commission's regulatory authority, and because they now perform as well as bona-fide slot machines, KEEP is opposed to casinos.
HWD: Do you think the horse industry will continue to grow?
TRW: When I was at UofL, we and the University of Kentucky jointly sponsored a Kentucky International Equine Summit in Lexington. We had 92 speakers at the first one in 2008 (too many) and about 70 in 2010. In a lead-off talk, I said that the horse industry hit its peak in the 1920's when there were about 20 million horses in the US. It hit its low point in the 1950 census when it went down to one million. An article on "the end of an era" about then argued that was about enough. The point was, we need some for horse racing, some to work on ranches, some for rich people to ride, and maybe a few for circuses or rodeos, but a million is all we're ever going to need. We don't need them for agriculture. We don't need them for transportation. We don't need them for the military. The article ended with something like, "So long, Equus caballus. Thanks for your service."
Almost before the article was published the number of horses started going up. By the middle fifties, when half of the American households had a television set, it was estimated at two million. When the baby boomers were just becoming about ten years old, CBS Network decided to try an adult western drama, Gunsmoke, in prime-time. I LOVE LUCY had been the number one TV show for years, far and away. By February Gunsmoke had pushed "Lucy" out of first place. In two years, by the fall of 1958, there were twenty-five prime time cowboy westerns among the major channels, ABC, NBC and CBS. Amazing!
Those westerns went on for about fifteen years, and I think that had as much to do as anything with the horse becoming a part of the culture. The numbers just rising until we were up to nine million by 1990. Most of the younger generation today haven't grown up with cowboy movies, so they don't have any interest in cowboys or horses. Girls and women tend to have a greater affinity for animals and horses in particular. Today almost 90% of all the vet students in the U.S. are women, as are about 85% of all the members of the AQHA. Women dominate almost facet of the horse industry except racing.
HWD: When our grandchildren come to Kentucky they come to where we live on the Ohio River. So, they're coming to a river setting, coming to nature. We try to take them out into to see nature. If we can get them to a horse farm, even get them on a horse, we try. We try to lead them back to nature that way. Kids are tied up with technology to a great degree. They get outside to play sports but that's in the company of other humans. Kentucky could be the state where the horse leads us back to nature. It would take more than just the thoroughbred, it would take contact between people and animals. Like many Kentuckians, I've got a lot of pictures in my house of horses. I've got a license plate with a horse image on it, like a lot of people do. But most Kentuckians never experience a horse up close. They love that Kentucky is known as the horse capital of the world, but they never experience a horse up close. The only time they come close to a horse is when they go to the race track and then they're isolated from the horses.
RW: Well, there are a lot of issues there. Earlier this year, I gave a few talks on how to make horses "wanted" again. This was in contrast to the alleged problem of the so-called "unwanted horse." I said I don't like that term. If someone says I can't afford this horse, it's not the same as someone saying, "I'm getting rid of this puppy because he's wet the carpet and chewed up my slippers." To own a horse, whether you board it or have your own property, it's a different thing. I said let's not talk about "unwanted" horses, let's talk about horses that are "uneconomic." That's the issue and it's more difficult to deal with that.
I don't like the fact that people are going to jail because they own ten horses that they can't afford to feed, and can't sell them because they're lame, or mean, ot useless for some other reason, and there's no legal market for salvage, let alone horsemeat, and it's expensive (and distasteful) to poison horses in the guise of euthanasia (or so-called "humane slaughter"). Today, if you go to a livestock sale, there's liable to be two more horses in your trailer when you come out.
So I said I don't like the term 'unwanted horse" and prefer "uneconomic horse." The horse situation is different than the pet situation. To talk about horses in the same sense as companion animals such as cats and dogs is illogical and not at all realistic. That's a major part of the issue.
As for nature, you could show kids dogs and cats as nature. You could show them mice and rabbits or chickens. But it's more complicated when you're talking about horses. It's like saying I'm fencing in my back yard to keep a few buffalo to let my kids see the original native American herd animal. I deeply agree with your sentiments about nature and all that. I'm not sure, although I admit that I'm not unsure either, I just don't know whether horses are the best vehicle to get people back to nature.
HWD: It might not be the best.
RW: It's certainly one.
HWD: But for a state that advertises itself as the horse capital of the world it may be the place to provide access. And we can attract a lot of people. A visitor might say "I went to Kentucky. And they like horses down there. If you want to see one you can and if you want to ride one, you can ride one."
RW: Well, they're trying to do that at the horse park. They do have horses to ride. They have horses you can pet. They have famous horses you can look at. They usually have a show going on. They've got museums and exhibits.
HWD: But what if I didn't go to Lexington. I went to Henderson.
RW:
Well, then you took a wrong turn. But remember that Arizona only has one Grand Canyon, and the state of Wyoming has only one Yellowstone Park. Unless
more entrepreneurs across the state see some way to profit with equine tourism it won't get done. By the way, Henderson does have Ellis Park.
HWD: And I think there are people who ride horses in Henderson, but I think it's a small club, not open to the public. They're not trying to provide access to people besides themselves. That's what I'd like to see more of in Kentucky. Thank you, Rich for your time.
RW: You are very welcome, Boots.
Comment on this story
Do you think Kentucky is the horse capital of the world? Why? Why not?